8.80 A brand new user experience
ScanCAD core software release 8.80 provides a brand new, completely redesigned and rethought user experience. Our new user experience was constructed from the ground-up to provide a simple, intuitive, and streamlined interface regardless of your workflow.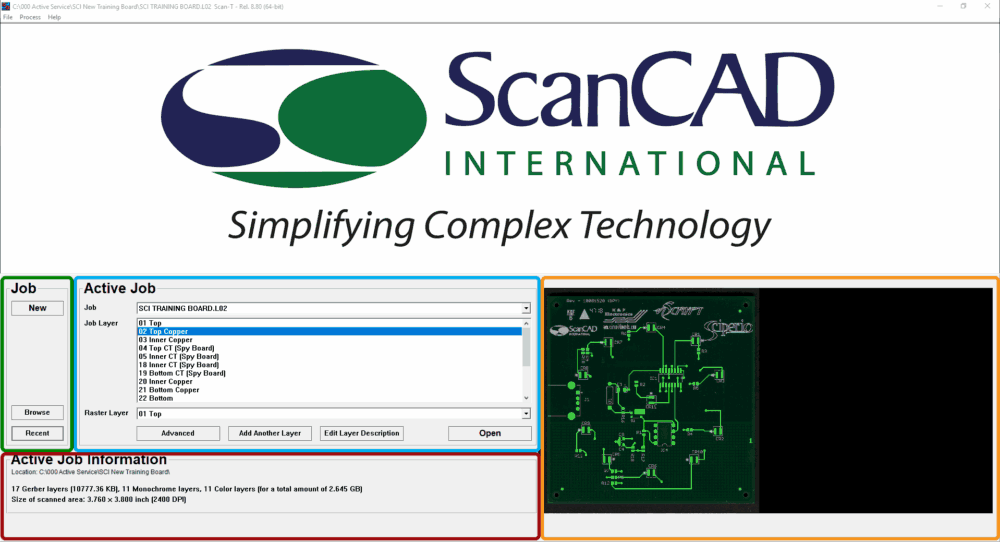 Job
This portion of the main screen is dedicated to job selection and creation operations. The New button allows a user to create a new job in the currently loaded job directory (displayed at the top of the screen and in the Active Job Information area). The New button function loads a form with allows the user to select which inputs they would like to use for the new job. Options include scanning a new image, importing a new image, and/or importing a gerber file. Browse allows a user to browse for and load a directory. Once a directory is selected, the software will create new jobs within that directory and/or load all jobs in that directory. The Recent function allows the user to locate and select recent jobs.
Active Job
The Active Job area of the screen allows users to define which job in the current directory is loaded and perform various actions on that job including:
Selecting and entering Gerber and Image layers
Editing Layer Descriptions
Adding additional layers
other advanced functions including special inspection operations
The Job dropdown form displays all jobs in the given directory (that have a layer matching the currently selected layer). The Job Layer and Raster Layer selectors allow the user to select a layer to open. By default the Raster Layer selection will simply follow the Job Layer selection, however they can be selected independently if desired. A layer can be opened by pressing the Open button or by double clicking a layer. Edit Layer Description allows the user to edit the selected layer description. 
Add Another Layer  allows a user to add another layer to the selected job. The user will be able to configure the desired inputs such as a scanning an image, importing an image, and/or importing a gerber file. If desired, the user can also create an empty layer. 
Active Job Information
This portion of the screen is designed to present critical information to the user including the currently loaded directory along with job components including:
Gerber layers
Monochrome raster layers
Color raster layers
Aggregated job size
Scanned area
Resolution
Preview
Our new preview window is designed to provide the user with insight into the contents of each layer. The preview image displays the contents of the layers selected in the Active Job panel.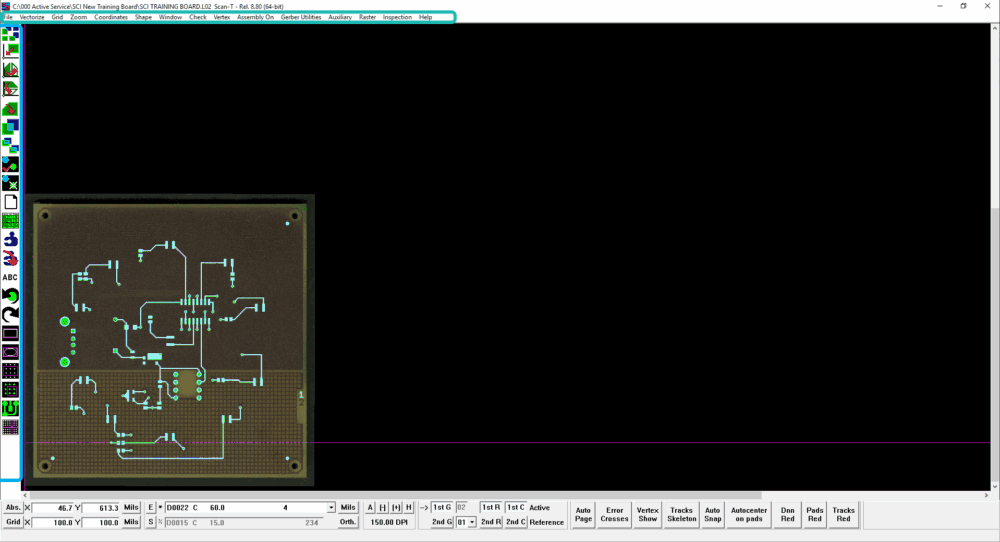 Toolbar
The toolbar icons have been increased in size and overhauled to improve appearance and increase clarity. Remember, in order to find out what an icon does, simply hover over it with a mouse until the tooltip pops up.
Menus
The menus have undergone minimal changes, however there are a few notable enhancements:
All export type functions have been consolidated into the graphics screen under File>Export
The Copy function was moved from the main screen to the graphics screen under Gerber Utilities>Copy Gerber to Another Layer
The Soldermask function was moved from the main screen to the graphics screen under Gerber Utilities>Soldermask…
The Merge Reference Layer into Active Layer function has been moved from Auxiliary to Gerber Utilities>Merge Gerber Reference Layer into Active Layer