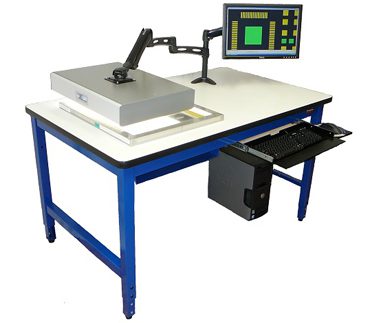 ScanPLACE provides a sophisticated and user-friendly alternative to complex CAM software packages and inaccurate, time consuming manual inspection and programming methods that cost assembly houses productivity, time and money.
Designed to increase PCB assembly productivity, ScanPLACE is a fully integrated, off-line programming, inspection and measurement workstation.
Using a calibrated, high-resolution, color imaging system, ScanPLACE produces assembly programs and process documentation for Surface Mount, Insertion, Test, Inspection and Dispensing machines.
Import / Scan
CAD, Components, Boards, Film, Stencils, BOM and Gerber Data
Output
Component Pitch, Rotation and body dimensions
X/Y Component Centroid
Reference Designator & Package ID
Part, Feeder/Magazine Number
User Defined Data
Gerber Data
Process Documentation
Multiple machine specific CAD files (IMC, SMT, TEST, AOI) and Stencil file generation during one programming session
Component Information for Vision Databases
Version 1
PC Boards-Bare/Loaded
Components
Stencils/Screens
Films
Drawings
Paper
Version 2
PC Boards-Bare/Loaded
Components
Stencils/Screens
Films
Drawings
Paper
Gerber
ASCII CAD
BOM
Version 3
PC Boards-Bare/Loaded
Components
Stencils/Screens
Films
Drawings
Paper
Gerber
ASCII CAD
BOM
Version 1
Stencil files
Drill files
DXF
BMP, TIFF
Select one output format below
Version 2
Stencil files
Drill files
DXF
BMP, TIFF
Select one output format below
Version 3
Stencil files
Drill files
DXF
BMP, TIFF
ALL output formats below
Available Machine Output Formats
Amistar, Asymtek, CAM/A LOT, Contact Systems, CR Technology, Creative Automation, Dynapert, Europlacer, Four-PI (HP), Fuji, Juki, KME, MVT, Mydata, Panasonic/Panasert, Philips/Assembléon, Quad, Rovonics, Sanyo, Siemens, Sony, TDK, Tenyru, Universal, VI Technology, Yamaha, Zevatech
FabMaster, Gerber 274X, GenCAD, GraphiCode, LPKF, Mitron, Unicam, Unicraft
Automatic Functions
Surface Mount Pad Recognition
Insertion Hole Recognition
Automatic Text Function
Auto Load Gerber
Placement
Autofind Function Locates Components and Related Centroids
Global / Circuit / Local Fiducials
Automatic Generation of Adhesive Dot Centroids
Component Database
Editor Accuracy: 0.0001″ (0.00254mm)
Check/Verification
"Jump-To" Component
"Jump-To" Reference Designator
Programming Environment Editor
Assembly File Editor
Gerber Editor
In-Bound Board and Stencil Inspection
ScanPLACE increases production efficiency by using off-line comparison of actual PCBs and Stencils against Gerber files and/or a "golden board." Pre-production check verifies revisions against each other before the first production run. Eliminate surprises.
Build Component Libraries
Scan a component to automatically calculate and register the following information:
 Lead Pitch, Lead Size, Body Size
 Lead Groups, Pick Up Location, etc.
 Specific Vision Data outputs for Fuji SMD3 and Siemens SIPLACE
 Generic Vision ASCII files for other suppliers
Off-line Inspection & Measurement
ScanPLACE uses a combination of editing functions to ensure that all information has been inserted correctly. This off-line verification significantly reduces first article setup time. Overlay CAD and/or Gerber data and compare:
 Loaded Boards
 Bare Boards
 Stencils
 Components
 Wet Glue / Solder Paste/ Epoxy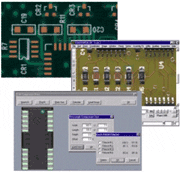 First Article Inspection
ScanPLACE increases productivity with the ability to scan the first article and compare it to the CAD data.
Flexible: Use one workstation to produce assembly files for multi-vendor Surface Mount, Insertion, Test, Inspection and Dispensing machines.
Powerful: Use one workstation to inspect stencils, screens and bare or loaded boards.
Accurate: Find and eliminate errors with Loaded PCBs, Wet Solder Paste, Glue, etc.
Fast: Decrease programming time from days to hours.
Easy: PC based system.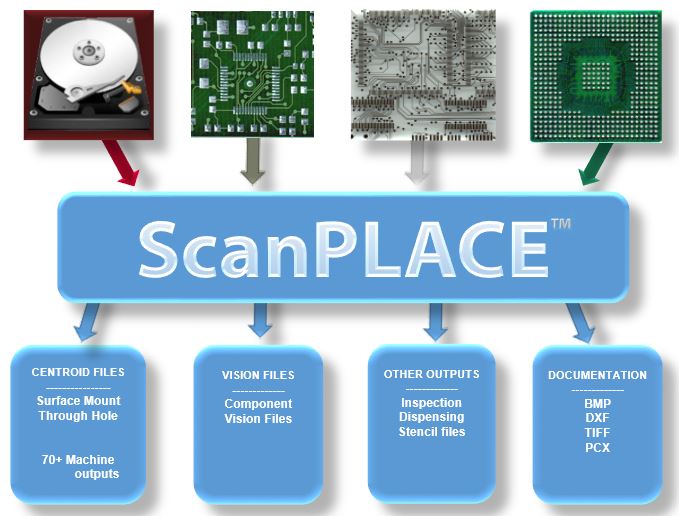 Technical Specifications*
Scanner
 High-Resolution Color Flatbed Scanner, Size A3:(400/1000/1600/2000/2400/3200/4000/4800 dpi)
 Calibrated Accuracy: ± 0.0015" (± 0.0381mm)
 A3-Scanning Bed Area: 11.7″ x 16.5″ (297mm x 419mm)
 A4-Scanning Bed Area: 8.5″ x 11.5″ (216mm x 292mm)
 Maximum Work Area: 32.0″ x 32.0″ (813mm x 813mm)
Computer*
 Multi Core Processor – 3 GHz
 1 TB 7200 RPM HD, 8 – 16 GB RAM
 CD/DVD ROM – for archive purposes
 Flat Panel Monitor (17″ or larger)
 Ethernet connection
 Win 10 – 64-Bit
 2 available USB ports – USB2 or USB3
*Recommended customer-supplied minimum PC requirements.
Additional System Components
 Precision Glass NIST Calibration Grid
 Scanner Interface Card/Cable
 Software Protection Key
 Scanning Accessory Package
 Custom Desk (Optional)
The following are trademarks of the indicated companies: Gerber, Ucamco N.V.; Windows 10, Microsoft®;  ScanCAD™ and ScanINSPECT VPI™ are trademarks of ScanCAD International, Inc. *All specifications and designs subject to change without notice.*
Friendly, Flexible, Innovative & Global
ScanCAD International, Inc. continues to flourish and evolve to successfully meet ever-changing technology requirements.
All ScanCAD products were developed at the request of its customers, therefore your comments and suggestions are welcome.