In Hybrid thick film, LTCC and thin film application environments, our ScanINSPECT tool is used for:
Substrate Fabrication
1) DRILL & PUNCH inspection…. hole inspection
2) VIA FILL inspection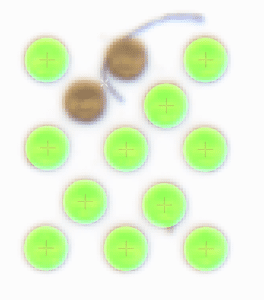 3) PATTERN PRINT inspection (both wet and dry) (Every layer after printing, to avoid adding value if there is problem)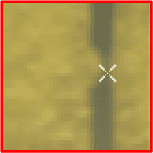 4) FINAL PIECE inspection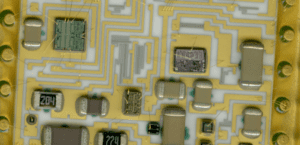 Photo Tools & Screens
1) PHOTO TOOL inspection (If fabricating your own screens, confirm the photo tool is okay prior to exposure… pin holes, scratches, mouse bites, shorts, etc.)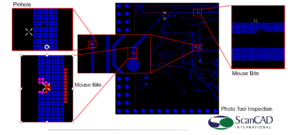 2) EMULSION SCREEN inspection (new screen inspection as well as inspection after cleaning… checking for lifted emulsion, pin holes, debris, etc…)
Substrate Assembly
1) DISPENSE or PRINT inspection of silver epoxy, glue, solder paste, etc. for component attachment, underfill, etc.
2) WIRE BOND inspection (absence/presence, etc.)
3) COMPONENT PLACEMENT inspection (absence/presence, rotation, correct part, etc.)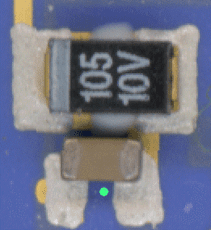 Our ScanINSPECT systems perform ALL of these inspections mentioned above, plus many others…. on a SINGLE hardware platform. All of these are AUTOMATIC optical inspections (AOI) using CAD data (DXF or Gerber) and/or Golden Board except the Component Placement Inspection. Automatic means the system automatically looks for errors across 100% of the part and brings them to the attention of the operator. The operator can then possibly repair or fix the issue (debris, touch up, etc.) or reject the part before more parts are made.. all of which is done before value is added to the inspected part in downstream steps, thereby increasing productivity and reducing scrap & rework.
The Component Placement Inspection is the only non-automatic process on this system. It is a manual assist type inspection, guiding the operator from one component to the next and to the next at high resolution while displaying the data needed for them to confirm all is okay. (The system can toggle an image of a known good component for comparison, if desired… using a Golden Part.) Fast and easy.