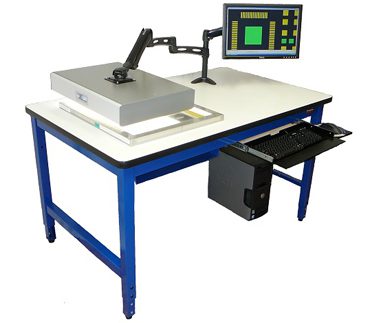 ScanINSPECT AFI is a fully integrated, stand-alone inspection workstation for film, diazo, photo mask, chrome, glass plates, etc. ScanINSPECT AFI uses a PC Windows based software package integrated with a high-resolution, calibrated, A3 size flatbed scanner. This combination allows 100% inspection for accuracy against Gerber data or against golden board data.
Tired of using slow, error prone manual inspection methods? ScanINSPECT AFI offers various functions that quickly and automatically inspect for:
 Mousebites, shorts, opens, dust, and pinholes
 Absence/Presence of Apertures and Traces
 Confirm Proper Aperture/Trace Shape and Size
 Compare Film/Stencil/Screen vs. Gerber
 Compare Film/Stencil/Screen vs. Golden Film/Stencil/Screen
 Confirm Proper Aperture/Trace Position
 Create Gerber data from Boards/Films/Stencils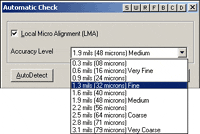 If the optional FAB module is also purchased, ScanINSPECT AFI not only inspects, it also is able to create Gerber data. Utilizing its calibrated scanner, ScanINSPECT AFI inputs silver or diazo film, mylar images, technical drawings, actual PCBs, original hand-taped designs and stencils/screens then creates Gerber data.
Scanning
 Scan Film, Diazo, photo mask, chrome, glass plates, etc.
 Verifiable Image Alignment
 Automatic Raster to Gerber Alignment
Automatic Functions
 Pad Recognition: Circle, square, oval, rectangle
 Pads on Grid
 Local Micro Alignment (LMA) for pads & tracks
Inspection Functions
 Compare existing films against Gerber image or actual PCBs for errors
 Verify aperture/trace size errors to 0.0003″ (0.008mm) on aperture/trace as small as 0.002″ (0.050mm)
 Highlight D-Codes
 Check Scanned image against scanned image
 Check Gerber Image against scanned image
 Compare Gerber Image against Gerber image
 Design Rule Check Geometry Inspection
Editing
 Multi-Color Display
 Multi-Level Zoom Function
 Edit Accuracy: 0.0001″ (0.00254mm)
 Customized Aperture Tables
 Snap-to: Pad Center
 Snap-to-Grid: Pads
 Multi-Layer Display
 Macros: Create & Store
 Automatic Text Function
 Metric or Inch
 Pass/Fail Inspection Report
 Rework File Generation
 Gerber Files (274D & 274X)
 Comprehensive Aperture Tables
 Stencil Files
 Solder Mask
 Pad Master
 Silkscreen
 DXF
 BMP and TIFF
 Panelized Images
Worried about the quality of existing films or Gerber files? Use ScanINSPECT AFI's "check functions" to verify the accuracy of the data. The new LMA option allows for checking apertures/traces as small as to 0.002″ diameter  (0.050 mm).
These functions verify films for production errors, accuracy, opens/shorts, mouse bites, and size. The system steps the operator automatically through all discrepancies of the verification results.
ScanINSPECT AFI permits fast and accurate comparison of film/stencils/screens to bare PCBs bringing automation and increased productivity to QC departments.
With the optional FAB module, ScanINSPECT AFI creates Gerber 274X files as well as other data used in PCB and stencil production, including: Silkscreens, Soldermasks, Padmasters, Stencil Files, Panelized Images, DXF, BMP, TIFF files, etc.
 Mandatory:  100% automatic inspection of films/screen/stencils for absence/presence and size of apertures/traces.
 Necessity:    Detect size error variances as small as 0.0003″ (0.008mm) at 4000 dpi.
 Necessity:    Supply production with required Gerber data with optional FAB module.
 Flexibility:     Use one software product to both create and inspect against Gerber data required by the PCB and fabrication process.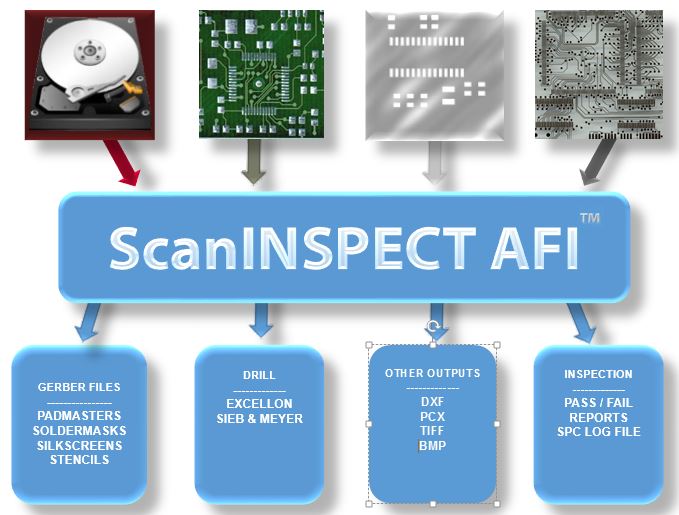 Technical Specifications*
Scanner
High-Resolution Color Flatbed Scanner, Size A3: 400/1000/1600/2000/2400/3200/4000/4800 dpi
Calibrated Accuracy: ± 0.0015" (± 0.0381mm)
A3-Scanning Bed Area: 11.7″ x 16.5″ (297mm x 419mm)
Maximum Work Area: 32.0″ x 32.0″ (813mm x 813mm)
Computer*
 Multi Core Processing – 3 GHz
 1 TB 7200 RPM HD, 8 – 16 GB RAM
 CD/DVD ROM – for archive purposes
 Flat Panel Monitor (17" or larger)
 Ethernet connection
 Windows 10 – 64-Bit
 2 available USB ports – USB2 OR USB3
*Recommended customer-supplied minimum PC requirements.
Additional System Components
 Precision Glass Calibration Grid
 Scanner Interface Card/Cable
 Software Protection Key
 Scanning Accessory Package
 Custom Desk (Optional)
The following are trademarks of the indicated companies: Gerber, Ucamco N.V.; Windows 10, Microsoft®;  ScanCAD™ and ScanINSPECT VPI™ are trademarks of ScanCAD International, Inc. *All specifications and designs subject to change without notice.*
Friendly, Flexible, Innovative & Global
ScanCAD International, Inc. continues to flourish and evolve to successfully meet ever-changing technology requirements.
All ScanCAD products were developed at the request of its customers, therefore your comments and suggestions are welcome.