Need digital data? Lost your CAD-generated design & fab files? Need a schematic for repair? Need to re-engineer a legacy board to data that has exact FORM, FIT and FUNCTION? ScanCAD offers all the needed products and/or services to complete the total re-engineering of a populated PCBA all the way back to Netlist & schematics!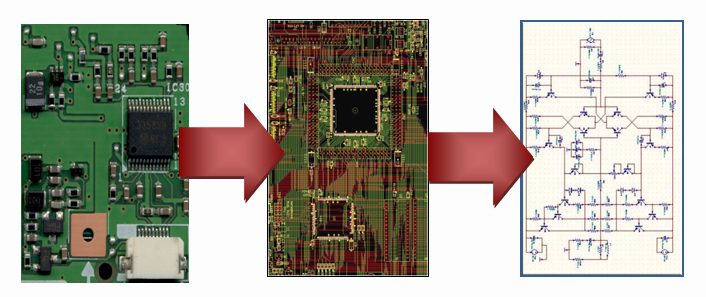 Instead of enduring a lengthy and expensive redesign process, allow ScanCAD International's Service Bureau to produce the necessary data for you. The process of image capture in B&W, Gray or Color through the conversion of raster to vector data followed by several quality control steps and finally the output in a wide variety of formats is all done in a logical, intuitive and well-designed platform.
Features and available output file options for reverse engineer applications are shown below:
Image
BMP
Vector
DXF
Gerber 274X
BOM
Excel
Netlist
IPC-D-356-A
FATF
ODB++
IPC-2581
Fabrication
Gerber 274x
Drill (Excellon)
Schematic
Interactive PDF
Cadence (ORCAD)
Mentor Graphics
…and many other popular Formats
Creating Assembly Files
Create Pick and Place files for your SMT or Through Hole Machines
Lost the Gerber or CAD data? Need component centroid data? Need placement files from a PCB board or from Gerber data? Need a Stencil file? Need to compare the board to the current Gerber or CAD data and make changes to match the board?Need placement files converted from one machine to another? ScanCAD sells all the needed products to complete the total job. ScanCAD also offers this as a service!

Allow ScanCAD International's Service Bureau to produce the necessary data for you.  ScanCAD will scan the PCB board/films or import the Gerber/CAD data and generate output for any of the 70+ available assembly machines. Placement output files options are shown below:
Placement Files
Surface Mount
Insertion
Documentation
BMP
TIFF
Other
Dispensing
Stencil Files
Test
AOI
Drill Files
With our services, you're guaranteed:
Quality. Security. Benefits.
Quality
How is quality assured? Quality results are the #1 priority of ScanCAD's Service Bureau. That's why each job processed by our service technicians undergoes a detailed quality check ("QC") procedure. During the QC process, the Quality Control Team uses a variety of automatic verification functions to eliminate pad "double-hits," verify inner-layer pad alignment, ensure track connections and confirm that all Gerber & Drill files have been generated correctly. Each job processed by our Service Bureau must be certified by the QC-Team before it is released to the customer!
Security
An added security feature of ScanCAD's Service Bureau is that complete copies of all jobs processed are stored on-site for five years. If a disk is accidentally erased or misplaced, ScanCAD's service technicians will immediately send you another copy of your completed job together with all documentation!
ScanCAD also offers optional, independent Netlist validation of reverse engineering work using state-of-the-art bare board test equipment.
Benefits
Maintain & support legacy electronics
Supply production with required CAD fabrication data (BOM, Gerber, Drill,Route, Netlist and schematic) to create spare parts.
Ability to provide full independent validation of recreated Netlists, even in cases where only a single PCB remains.
Improved board quality: Verifiable inner-layer pad, tooling hole and board edge/profile alignment.
Full Gerber editing functions to modify any design, if necessary.
Prevent phototool deterioration by storing images in digital format.
Eliminate old phototool archives
Store multiple copies of designs on disk, both on and off-site
Friendly, Flexible, Innovative & Global
ScanCAD International, Inc. continues to flourish and evolve to successfully meet ever-changing technology requirements.
All ScanCAD products were developed at the request of its customers, therefore your comments and suggestions are welcome.