What Is ConvertPLUS STENCIL?
ConvertPLUS STENCIL is a dedicated intelligent Stencil Paste Data Creation Tool.  It is designed to complement ScanCAD's family of scanner-based inspection products.
A custom menu and toolbar layout are provided along with all features needed for complete control of solder paste & glue stencil data creation, modification, verification and reporting.  Automatic detection and conversion of components using Footprint Libraries and Shape Sets.
ConvertPLUS STENCIL is flexible enough to handle unusual data to give you complete control of stencil data generation.
Master Footprint Libraries
Create Footprint Libraries, Load & Save Footprint Library to use on multiple jobs with optional Password capability
Powerful Paste Shape Editor
Create Shape Sets, Load & Save Shape Sets to use on multiple jobs
Built-in Shapes
Home Plate, Inverted Home Plate, MELF, Bullet, Snub Nose, Dog Bone, Round, Square, Rectangle, Oblong, Ellipse, Triangle, Diamond, Array, Original
Automated Component Footprint Identification
Use one or more of the provided methods:
• Footprint Library
Identify by Footprint Library with just one click
• Package Definitions
1350+ pre-defined packages and paste shapes
• Select Footprints
All like-parts (same Footprint) are automatically found
• Centroid file
Centroid converter included
Quick Convert: Quickly modify a shape
Stencil Data Generation: Quickly generate your Paste and/or Glue Layer
Stencil Library Report: Interactive Library Shape Report
Stencil Layer Report: Interactive Library Shape Report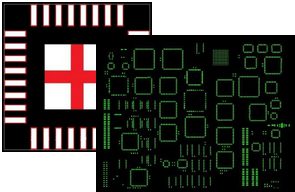 Import/Export
Gerber 274D & 274X
IPC2581
ODB++
DXF
HPGL/HPGL2
GenCAD
Barco DPG
MDA Autoplot
ASCII Centroid File
Import only
GerbTool

PADS ASCII

CAM350
Export only
Postscript

BMP

Integrated Printing
Stencil Layer Report
Interactive Paste Layer Report
Query Data
Parts, Layer Features, D-Codes
Measure Data
Point-to-Point, Center-to-Center, Volume,
Edge-to-Edge
Reports
Analysis, Apertures, Library Shape Set, Paste
Layer Report
Redlines/Notes
Add Notes, Point out problem areas, Markup SMT
Paste shapes and much more
Automation is the ultimate goal in almost any production environment. ConvertPLUS STENCIL comes complete with a full Macro Developer for quick and easy scripting. ConvertPLUS STENCIL offers traditional macro records and playbacks plus full drag-and-drop features that allows anyone to produce high quality macros with ease. The Macro Developer even comes complete with a built-in debugger.
LayerPrepforStencil
This macro should be run prior to using any of the Stencil tools to clean up your data. Removes Stacked Pads, Converts Drawn Pads to Flashes and Converts Custom Apertures to Intrinsic all in one step
Glue_Stencil
Convert the stencil openings designed for paste into openings designed for glue & adhesive printing
QuickText 
Assist in the automatic mark-up of SMT pad shapes for stencil design communication & documentation purposes
QuickPanel
Quickly panelize your data for step and repeat patterns

Powerful Paste Shape Editor
Complete control of your paste shapes using the Paste Shape Library.
Define a shape using one of the standard shapes available.
Set size by Area Percentage, Amount or Percent
Increase/Decrease Height/Width, Inset/Protrusion Length, Inset Width, Corner Radius
Reverse Direction
Justify the Replacement Shape to Inner/Outer Edges with Offset
Add Window Pane with control of Gap Size, count Horizontal or Vertical, Gap Angle and add Diagonal Gaps.
Load & Save Shape Sets to use on multiple jobs.
BUILT-IN BASIC SHAPES

OTHER FEATURES
Undersize and/or round corners
Quickly undersize and/or Round Corners of all pads by layer makes editing very easy.
Quick Convert
Sometimes it just doesn't make sense to create a Footprint for certain data. With Quick Convert you can quickly modify a shape by Area Percentage, Amount or Absolute. Add Corner Radius, Window Pane. Select Destination Layer for the modified data and choose whether to delete original or keep data. Custom Apertures can also be easily modified with Quick Convert.
ConvertPLUS STENCIL's Analysis includes Layer Compare, Design Compare, Find Duplicates, Copper Area, Find Non-part Pads, Find Stacked Pads and Pad to Pad Spacing.
Use the Interactive Report option to help complete your design with full control and knowledge of your process.
With the Library or Paste Layer Report, you can now interactively set the shapes and easily see which parts do not have shapes assigned.
Benefit from the on-the-fly Pitch Rule Testing with color-coded pass or fail per your Pitch Rules.
For easy documentation:  Print directly from the Layer Report or Library Report and select which information to include in the output.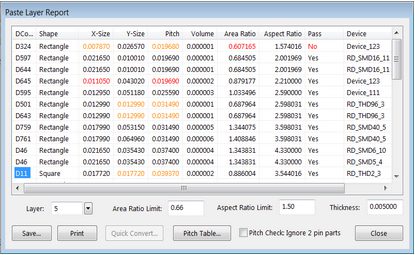 *All specifications and designs subject to change without notice.*
Friendly, Flexible, Innovative & Global
ScanCAD International, Inc. continues to flourish and evolve to successfully meet ever-changing technology requirements.
All ScanCAD products were developed at the request of its customers, therefore your comments and suggestions are welcome.