ScanFAB Lite is a fully integrated, stand-alone workstation linking existing or old designs with today's automated production environment.
ScanFAB Lite uses Windows based software integrated with a high-resolution, calibrated flatbed scanner. Scanning can be performed in color or B/W mode. This combination allows fast vectorization of data for original board designs, regardless of input.
ScanFAB Xtra-Lite
A software-only version is also available which imports un-calibrated standard TIFF or BMP images from any scanner platform and then converts the image to vector format using the same processes.
ScanFAB Lite adds flexibility to the fabrication process. Utilizing its calibrated scanner, ScanFAB Lite inputs silver or diazo film, Mylar images, technical drawings, PCBs or your original hand-taped designs to produce 274X Gerber data.
Tired of using slow vectorization methods? ScanFAB Lite uses a one-button feature that quickly and automatically vectorizes the image. Data is converted to vector format by creating a contour and fill of image, and generating a Gerber 274X formatted output file. ScanFAB Lite is a one step, low-cost vectorization tool.
 Necessity: Supply production with 274X Gerber data.
 Flexibility: Use Silver film, Mylar, Diazo, Glass, PCB, paper as input.
 Security: Prevent film/drawing deterioration by storing images in electronic format.
 Security: Archive multiple copies of designs, both on and off-site.
Scanning, Automatic Functions and Output Files
 Scan Silver Film, Mylar, Diazo, PCBs, paper
 Scanning Resolutions: 400, 1000, 2000, 3200 and 4000 DPI
 Create 274X Gerber files with the push of a button using the Automatic Contour and Fill feature
ScanFAB Lite can easily be upgraded to have full reverse engineering capabilities (ScanFAB).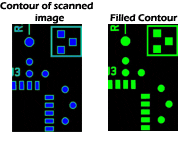 Technical Specifications*
Scanner
 High-Resolution Color Flatbed Scanner, Size A3:(400/1000/1600/2000/2400/3200/4000/4800 dpi*)
 Calibrated Accuracy: ± 0.0015" (± 0.0381mm)
 Scanning Bed Area: 11.7″ x 16.5″ (297mm x 419mm)
 Maximum Work Area: 32.0″ x 32.0″ (813mm x 813mm)
Computer*
 Multi Core Processing – 3 GHz
 1 TB 7200 RPM HD, 8 – 16 GB RAM
 CD/DVD ROM – for archive purposes
 Flat Panel Monitor (17" or larger)
 Ethernet connection
 Windows 10 – 64-Bit
2 available USB ports – USB2 OR USB3
*Recommended customer-supplied minimum PC requirements.
Additional System Components
 Precision Glass Calibration Grid
 Software Protection Key
 Scanning Accessory Package
The following are trademarks of the indicated companies: Gerber, Ucamco N.V.; Windows 10, Microsoft®;  ScanCAD™ and ScanINSPECT VPI™ are trademarks of ScanCAD International, Inc. *All specifications and designs subject to change without notice.*
Friendly, Flexible, Innovative & Global
ScanCAD International, Inc. continues to flourish and evolve to successfully meet ever-changing technology requirements.
All ScanCAD products were developed at the request of its customers, therefore your comments and suggestions are welcome.