What Is ScanFAB Xtra Lite?
ScanFAB Xtra Lite is a fully integrated, stand-alone workstation linking existing or old designs with today's automated production environment
ScanFAB Xtra Lite is a software-only version of ScanFAB Lite.  This Windows-based software can be used to import un-calibrated standard TIFF or BMP images from any scanner platform to automatically convert these images to a vector-based format
ScanFAB Xtra Lite adds flexibility to the fabrication process.   ScanFAB Xtra Lite imports BMPs and TIFFs images that were scanned on any un-calibrated scanner platforms at many different dpi's. BMPs can be in black-and-white or color.  TIFFs must be uncompressed.
Tired of using slow vectorization methods? ScanFAB Xtra Lite uses a one-button feature that quickly and automatically vectorizes the image. Data is converted to vector format by creating a contour and fill of image, and generating a Gerber 274X formatted output file. ScanFAB Xtra Lite is a one step, low-cost vectorization tool.
Why Use ScanFAB Xtra Lite?
 Necessity:   Supply production with 274X Gerber data
 Flexibility:    Import BMPs and TIFFs from any un-calibrated scanner platform
 Flexibility:    Use on-hand images
 Security:     Archive multiple copies of designs, both on and off-site
Input Files, Automatic Functions and Output Files
 Import BMP or TIFF images at the resolutions below.  BMP images can be in Black and White, Gray or Color;  TIFF images must be uncompressed.
 Input Resolutions: 400, 1000, 1600, 2000, 2400, 3200, 4000 and 4800 DPI
 Create 274X Gerber files with the push of a button using the Automatic Contour and Fill feature
ScanFAB Xtra Lite can easily be upgraded to a to have scanning capabilities (ScanFAB Lite)  or even to full reverse engineering capabilities (ScanFAB)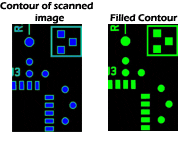 Technical Specifications*
Scanner (ScanFAB Lite only)
 High-Resolution Color Flatbed Scanner, Size A3:(400/1000/1600/2000/2400/3200/4000/4800 dpi)
 Calibrated Accuracy: ± 0.0015" (± 0.0381mm)
 Scanning Bed Area: 11.7″ x 16.5″ (297mm x 419mm)
 Maximum Work Area: 32.0″ x 32.0″ (813mm x 813mm)
Computer*
 Multi Core Processing – 3 GHz
 1 TB 7200 RPM HD, 8 – 16 GB RAM
 CD/DVD ROM – for archive purposes
 Flat Panel Monitor (17" or larger)
 Ethernet connection
 Windows 10 –  64-Bit
2 available USB ports – USB2 OR USB3
*Recommended customer supplied minimum PC requirements.
Additional System Components
The following are trademarks of the indicated companies: Gerber, Ucamco N.V.; Windows 10, Microsoft®;  ScanCAD™ and ScanINSPECT VPI™ are trademarks of ScanCAD International, Inc. *All specifications and designs subject to change without notice.*
Friendly, Flexible, Innovative & Global
ScanCAD International, Inc. continues to flourish and evolve to successfully meet ever-changing technology requirements.
All ScanCAD products were developed at the request of its customers, therefore your comments and suggestions are welcome.