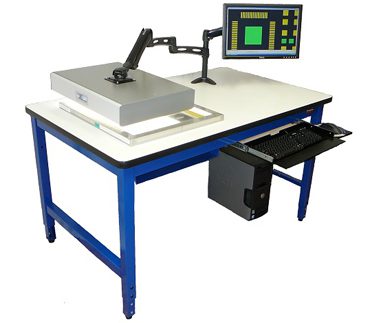 What Is ScanINSPECT AFI Lite?
ScanINSPECT AFI Lite is a fully integrated, stand-alone inspection workstation for film, diazo, photo mask, chrome, glass plates, etc.
ScanINSPECT AFI Lite uses a PC Windows-based software package integrated with a high-resolution, A3 size flatbed scanner.
ScanINSPECT AFI Xtra-Lite
ScanINSPECT AFI is a software-only version of ScanINSPECT AFI Lite which imports un-calibrated standard TIFF or BMP images from any imaging platform (scanner, microscope, X-ray, etc.,) and offers geometry inspection capabilities.
ScanINSPECT AFI Lite uses an un-calibrated image and performs an Automatic Optical Inspection detecting very small shorts, opens, mouse bites, pinholes, dust, and other defects using geometry inspection algorithms. The software creates a final inspection report identifying any errors. The system automatically creates an entry in the inspection log file after a report is generated.
Worried about the quality of existing films? Use ScanINSPECT AFI Lite to verify film integrity prior to production. The geometry inspection inspects features and problems smaller than the minimum trace/space width, down to 0.0003″ (0.008mm) at 4000 DPI.
These functions verify films for production errors, such as: opens/shorts, mouse bites, and pinholes. The system steps the operator automatically through all discrepancies of the verification results.

Import
 Scan film, diazo, paper, mylar, glass in monochrome
 Scanning Resolutions: 400, 1000, 1600, 2000, 2400, 3200, 4000, 4800 dpi
 Import uncompressed B/W TIFF images from other imaging platforms (ScanINSPECT AFI Xtra-Lite)
Automatic Functions
 Geometry Inspection for opens, shorts, mouse bites, pinholes, and dust
 Inspection report and log file
 Print scanned image and inspection report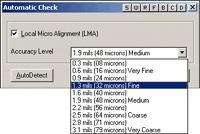 Technical Specifications*
Scanner (Lite version only)
High-Resolution Color Flatbed Scanner, Size A3: 400/1000/1600/2000/2400/3200/4000/4800 dpi
A3-Scanning Bed Area: 11.7″ x 16.5″ (297mm x 419mm)
Maximum Work Area: 32.0″ x 32.0″ (813mm x 813mm)
Computer*
 Multi Core Processing – 3 GHz
 1 TB 7200 RPM HD, 8 – 16 GB RAM
 CD/DVD ROM – for archive purposes
 Flat Panel Monitor (17" or larger)
 Ethernet connection
 Windows 10 – 64-Bit
2 available USB ports – USB2 OR USB3
*Recommended customer-supplied minimum PC requirements.
Additional System Components
 Transmissive Lighting Package (Lite version only)
 Software Protection Key
 Scanning Accessory Package (Lite version only)
The following are trademarks of the indicated companies: Gerber, Ucamco N.V.; Windows 10, Microsoft®;  ScanCAD™ and ScanINSPECT VPI™ are trademarks of ScanCAD International, Inc. *All specifications and designs subject to change without notice.*
Friendly, Flexible, Innovative & Global
ScanCAD International, Inc. continues to flourish and evolve to successfully meet ever-changing technology requirements.
All ScanCAD products were developed at the request of its customers, therefore your comments and suggestions are welcome.